An Introduction to Bathroom Furniture
Bathroom furniture can add a unique feel to your space. An elegant vanity, or a well-placed mirror can tie the room together; these pieces are both functional and decorative. Whether you are renovating your washroom or simply looking for a fresh addition to your space, there are a number of things to consider when selecting furniture to your washroom. What piece of furniture fits the architecture and style of your space? We offer useful advice to help you out as you pick your new bathroom furniture.
Where to start
Before you begin purchasing bathroom furniture, there are a number of steps you should take to ensure you are acquiring the right kind of pieces for your space. Do you need additional storage? What about counter space, and do you need a mirror? Make a list of different things that you think your space would benefit from, and what type of pieces would complement the aesthetics of the fixtures that you have installed in your space? Browse our collection of bathroom pictures on Pinterest if you are still in need of inspiration.
It is also important to factor in the size of your space; a large freestanding vanity is not the right piece for a confined space, where a small plinth stand will look lost in a large room. Measure your space, and do research on what can help you optimize the space that you have available. There are a number of articles available online that focus specifically on creative ideas for smaller spaces. Those looking to place furniture in a larger bathroom have less restrictions on what will work in the space, but it is important to remember that sometimes simplicity is key; adding to much furniture will cramp the space and make it feel smaller than it actually is.
Vanities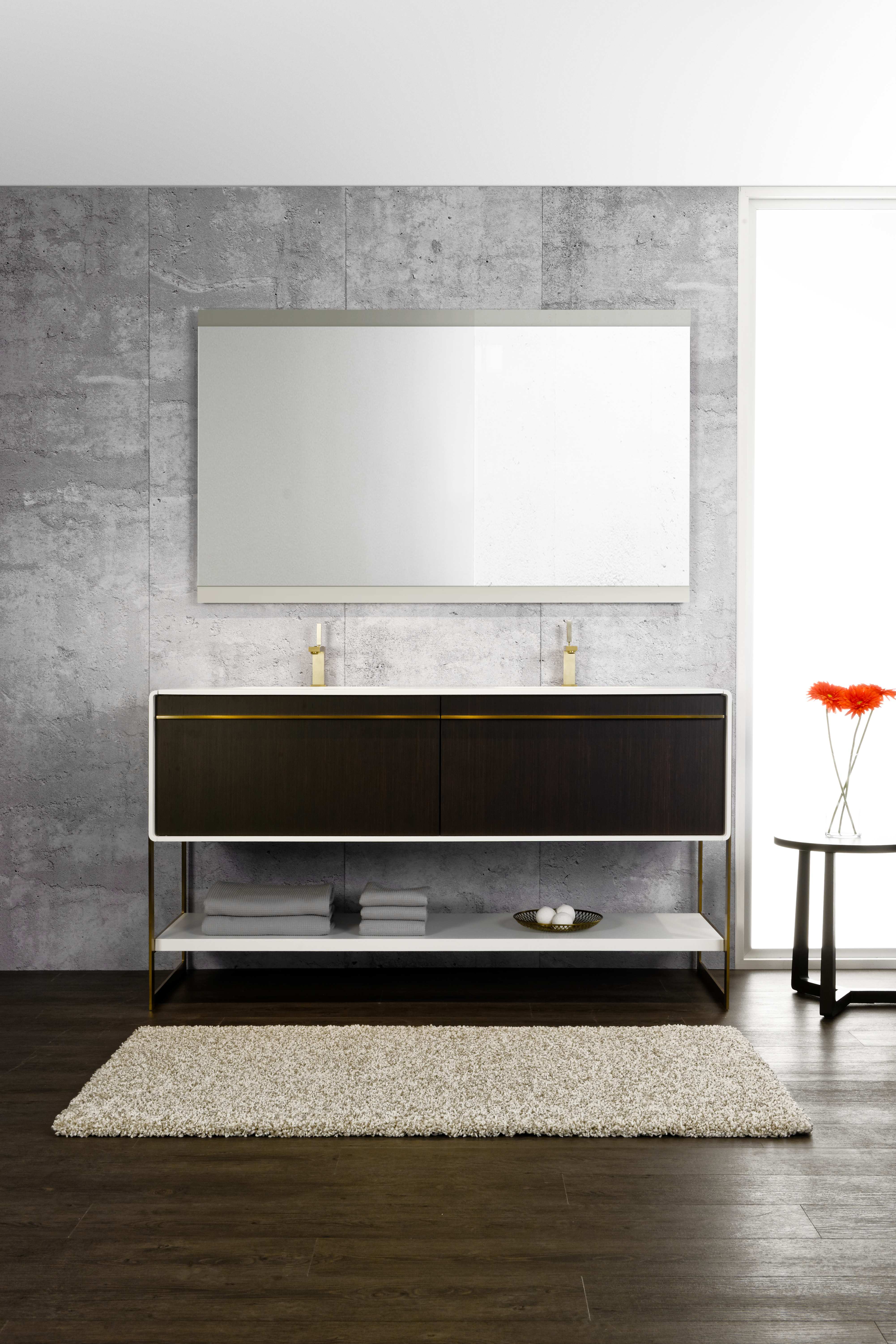 A vanity is an essential piece of furniture for any washroom. This versatile fixture provides a place to install deck mounted sinks and faucets, and frequently features additional storage space to help eliminate clutter in your washroom. There are three types of vanities available: wall-mount , floor-mount, and freestanding. Each of these styles provide different benefits, and each is ideal for unique spaces. Wall-mount vanities, such as this piece from the Déco collection, are ideal for smaller spaces, helping optimize floor space while providing additional storage.
Depending on the construction of your home, some spaces are not suited for wall-mounted vanities as they can only be placed on walls that are able to hold a certain amount of weight. Floor-mount and freestanding vanities are better suited for mid to large spaces. Floor-mounted vanities are similar to wall mounted vanities but they have legs. Freestanding vanities are versatile storage units without sinks that can be installed without attaching to a wall, and are ideal for modern style décor. If you are interested in seeing what these vanities look like for your planning process, browse images along with dimension.
Mirrors
A mirror is an essential addition to any bathroom, but finding the correct size and style of mirror can be a challenge. It is important to factor in what this bathroom will be used for; are there dual sinks, or a single sink? Will multiple people be using this bathroom at the same time as they are getting ready? Mirrored cabinets are a fusion piece, allowing for the inclusion of a mirror and extra storage, and can be perfect for small spaces where storage is lacking. Mirrored cabinets are available in a number of models, with some including built in plugs, LED lights, and mirror defoggers. Vertical mirrors are also ideal for more confined spaces, as they do not occupy as much wall space as their horizontal counterparts. For larger spaces with floor mounted or freestanding vanities, the Horizontal mirror from the C collection compliments spaces designed around dual washbasins, and is ideal for family bathrooms.
Cabinets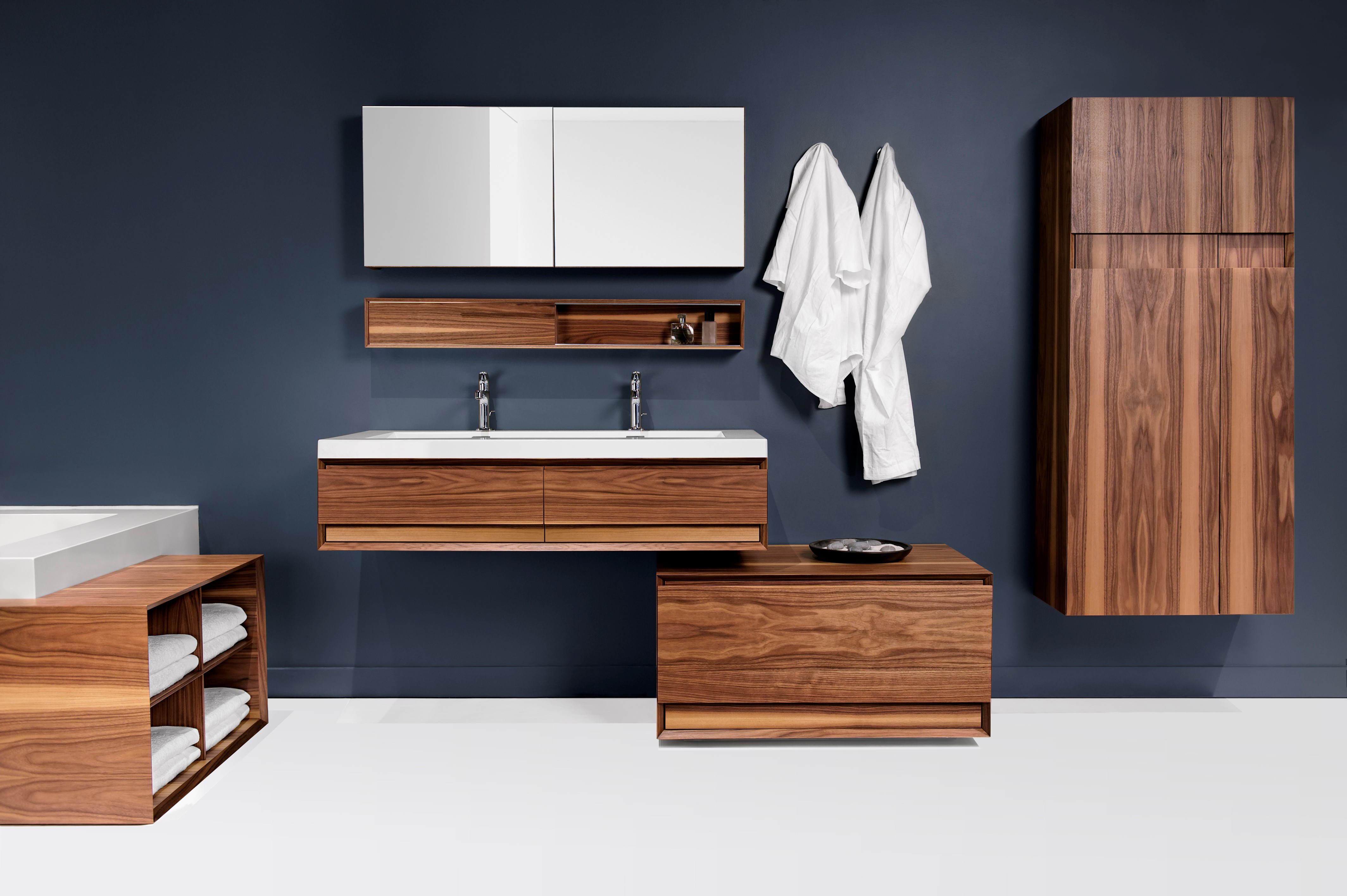 What is the difference between a bathroom cabinet and a bathroom vanity? A bathroom vanity is a structure designed for a sink to be placed on top, with built-in storage, where a bathroom cabinet is a storage structure without a sink mounted on the top. Cabinets are a versatile piece of furniture, with the option for both free-standing and wall-mounted varieties which allows them to fit into any space. Wall-mounted cabinets can be used as a decorative addition to any washroom, as well as for storing smaller toiletries. The larger, free-standing models can be used to store a wide range of bathroom essentials while also adding a sleek aesthetic touch to any washroom.
Linen cabinets are also ideal to house towels and face cloths, a make a wonderful addition to any washroom. Optimize your bathrooms storage space by considering what type of cabinet would work best in your space, based on size and design. There are many options available when choosing bathroom cabinets; if you are looking for inspiration, a list of cabinet styles and sizes can be found here.
Additional Storage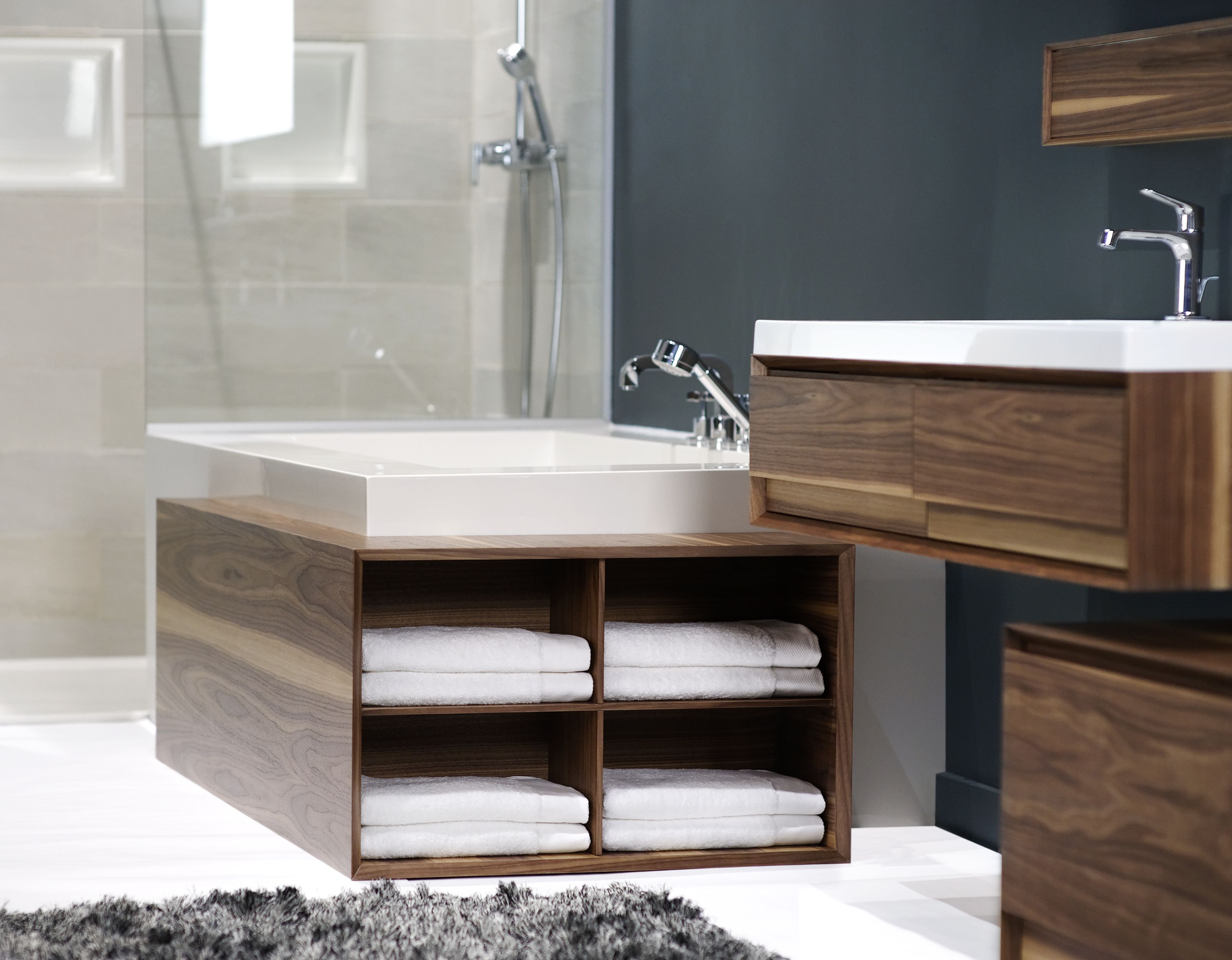 Do you need extra storage, but don't have the space for an extra cabinet, or are you looking to add additional specialized storage to your space? There are a number of unique storage units that will help optimize your space in a sleek and stylish way. The Towel Holder from our C2 collection is a freestanding fixture designed to house your towels for easy storage, and to help them dry after having been used. For bathrooms that lack floor space, wall-mounted towel holders help optimize your space without taking up much needed surface area, and add a stylish touch to any washroom. For bathrooms that feature tubs from our Cube line, customized storage units are available that nestle into the side of the tub, adding extra storage in a subtle and elegant design that is ideal for any space.
Bathroom furniture is an essential addition to washrooms both large and small. Whether you have a smaller space or a larger family bathroom, there is a versatile range of furniture available to help you optimize your space; make sure you plan accordingly when renovating, and reach out to our team if you have any questions regarding furniture and how it can revolutionize your space!