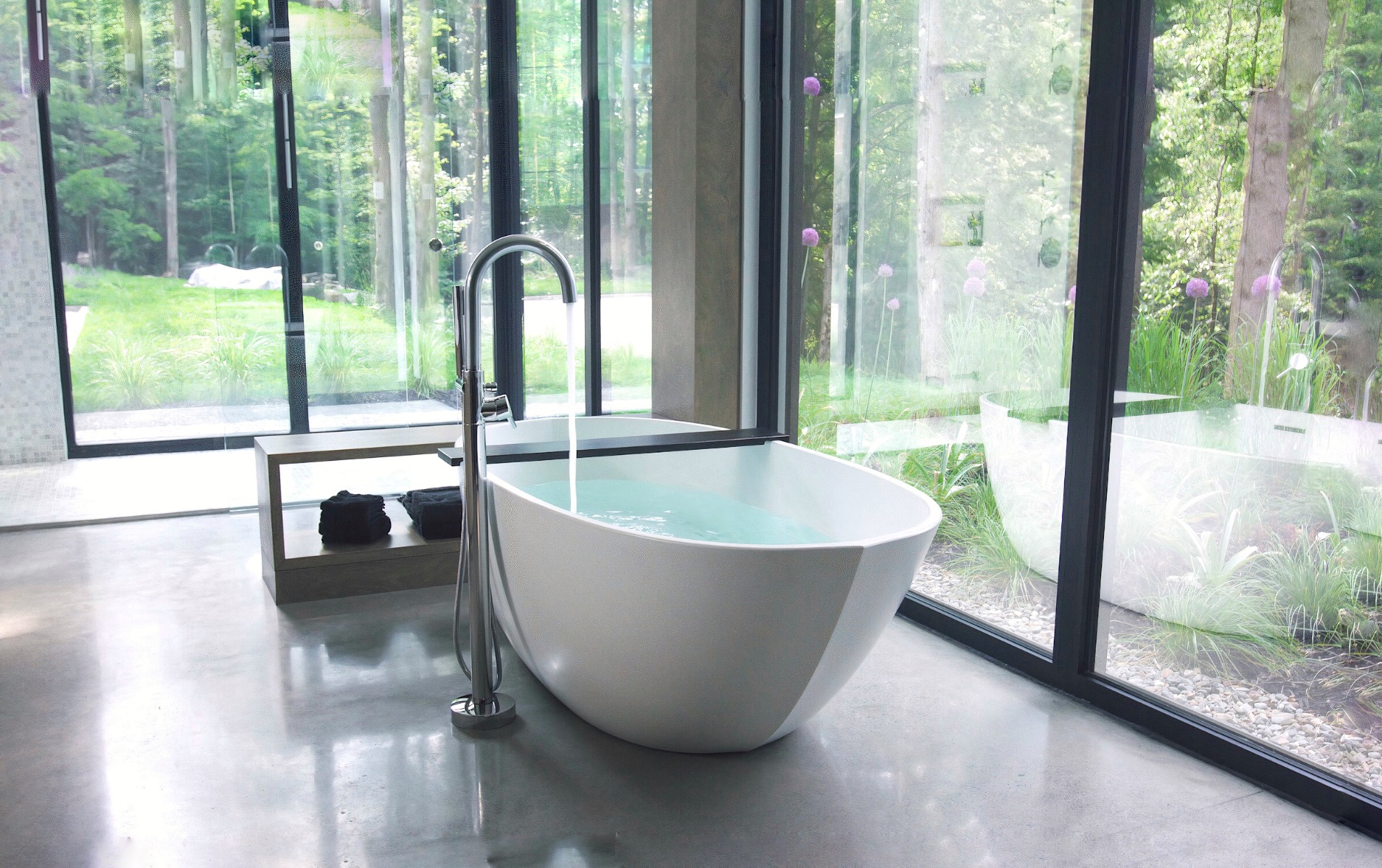 If you want to make your tiny bathroom feel like a luxurious bathroom in a five-star hotel, interior designer Janice King-Smith from While Elk Interiors has some tips to help with the makeover.
To start, she says not to focus on size because it isn't what makes a space feel elegant.
"We typically associate luxury with a space being grand, having opulent pieces, perhaps a chandelier or a focal point bathtub and sophisticated materials such as marble. But, shifting that a little, luxury in bathroom design is really about creating a space that makes people feel good," explains the designer who has worked on projects in both Australia and Canada and has a northern European, mid-century modern design aesthetic.
"Ultimately, what makes a room luxurious is how it feels and how it makes the user feel. If you step into a space that has all of the elements of luxury but it feels cold to the touch, literally, or the lighting makes you look bad, suddenly, that room is no longer luxurious."
When creating a luxurious bathroom, King-Smith recommends starting from the bottom and working your way up. 
Shower and Baths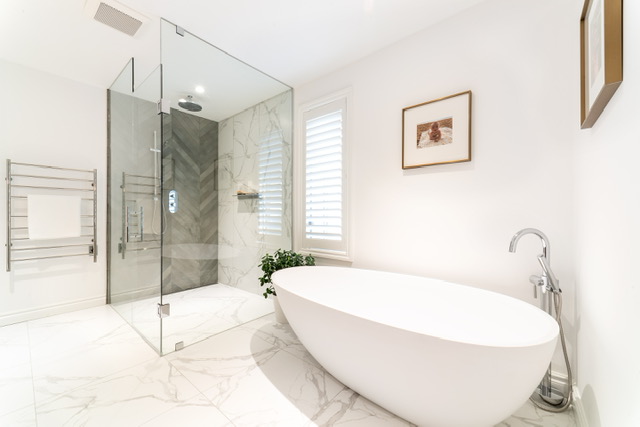 Heated floors and heated towel rails create a sense of calm that is associated with luxury. Including both of these amenities, in addition to shower seating, are bonuses that don't go unnoticed. 
Adding a bench to a shower creates an additional focal point when you can see it behind the glass shower doors, and transforming the shower into a steam shower is a luxurious touch. 
If your tiny bathroom has just enough space for a free-standing tub but not a separate shower, King-Smith suggests installing a trough drain in the floor and having your bathtub and shower behind glass shower doors, creating a wet space with a dual purpose.
If there's no room for a tub, she recommends installing the largest shower possible, opting for glass doors and one or two rain shower heads to make it the focal point of the room.
However, if it has enough space for both, select a deep bathtub with a round, organic shape.
"Avoid square edges if you can. It's not always possible but if we're referring to WETSTYLE, they do have bathtubs and vanities with organic shapes and curved corners," says King-Smith. "It's a beautiful way to soften things."
Vanities and Material Elements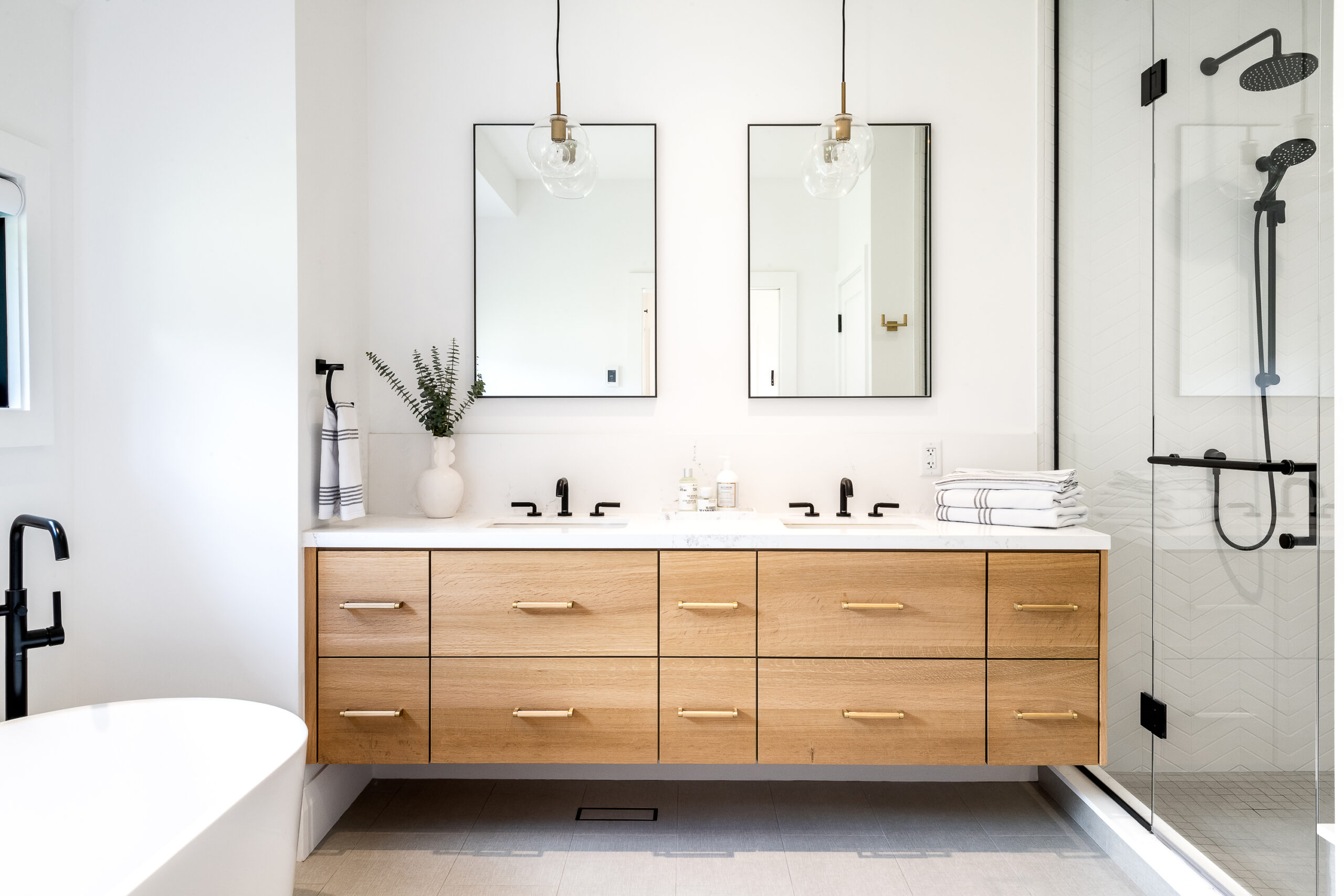 In a tiny bathroom or powder room, having a floating bathroom vanity as well as a floating or wall-mounted toilet is a great space saver, which is important, because the last thing you want is for a luxurious space to feel cramped — no matter what size it is.
A bathroom can be made to feel luxurious without using materials like marble, according to King-Smith, as long as the materials are high-quality.
"With minimalist bathrooms, they're luxurious because of the quality of the furnishings, the tones are warm, maybe the vanity is wood and there are curved and organic shapes," she says. "The tiles flow together and create a cohesive, harmonious look that is luxurious-feeling."
Warm hues like beige and greige colors, wood or wood-look materials and metals like brass, nickel and gold are all typically associated with luxury, class and timelessness.
Lighting and Personal Touches
You should always include general, task and ambient lighting in a space, all of which should be dimmable. The temperature of the lighting is important in terms of creating a space that's warm and inviting. Automation controls allow for multiple settings and a modern convenience for smaller spaces, as well.
"In the bathroom, I did using WETSTYLE furnishings. We incorporated LED strip lighting into the niche in the shower that was completely hidden and put on a sensor so that if a person walked into the bathroom at night, the light turned on and created a really soft glow," says King-Smith. "It was really warm, ambient and inviting, which goes back to that spa feeling."
Frosting the windows for privacy or using shades that roll up neatly and look invisible against a white backdrop is preferable to window dressings that may take away from the overall design.
Considering that a design of this nature should tend towards the minimalist side, a small luxurious bathroom should have abundant storage so that items aren't left out, which leaves the space looking cluttered. 
Including plush bathrobes, high-quality towels and luxurious personal care items is a great way to add a touch of elegance. A small amenities tray with beautiful hand soap and a candle goes a long way in creating the look and feel of luxury.
Start Living in Luxury With WETSTYLE
At WETSTYLE, we value luxury and believe a bathroom of any size is capable of embodying it. Whether you are looking for heated floors, steam showers or ambient lighting, WETSTYLE has everything you need. 
Contact us today for more information on products and start living in luxury today!