There is one large misconception that most people hold when it comes to home renovation: the only way to modernize a room and keep up with design trends is by lengthy renovation projects. Adding complements is an easy way to change the look and feel of your washroom without having to commit to a long and at times, expensive renovation project. From smaller additions that optimize comfort, to shelves and functional storage devices, there is a wide range of complements available to choose from on the quest to create the home of your dreams.
A Comfortable Clean
Under the right circumstances, the bathtub can be the most relaxing place in the home; it's the ideal spot to enjoy a good book, sip a glass of wine, or simply relax and forget about the stress of the outside world. Bathtub pillows can improve your comfort as you lounge in the tub, and are a simple addition to your washroom that won't
break the bank. Want to really ensure that you are as comfortable as possible in the tub and improve your bathing posture? Try adding a bathtub head and backrest, Which are compatible with our line of CUBE tubs!
Many modern washrooms forgot the tub in favour of the shower, which fit better in more compact washrooms. Just because you do not have a tub doesn't mean you should be denied comfort! A seat will ensure your shower is a comfortable and accessible space for everyone. With the option for a freestanding seat or a wall-mounted chair that can be fixed to cement or reinforced walls, this is a versatile complement that will make your shower as cozy as any bath.
A Space to Reflect
We reached out to Martine Paquin, an interior designer from Montreal who is now based in San Francisco, to ask her which complement she thinks makes the biggest visual impact. Paquin said "Bring in the natural light and the room will have a new glow. You can add an accent mirror to bounce the light or a piece of art that will be seen from key areas of your washroom."  
Adding a mirror to bounce light helps play up the natural beauty of your washroom. There are a wide range of mirrors available in many different shapes and sizes, ensuring you will be able to find the perfect piece for your washroom. A well placed mirror can do wonders in your washroom.
Organize Your Bathroom in Style
If you are looking for something more artistic to draw the eye in your washroom, we recommend the niche for its versatility. These unique complements are available in a number of shapes and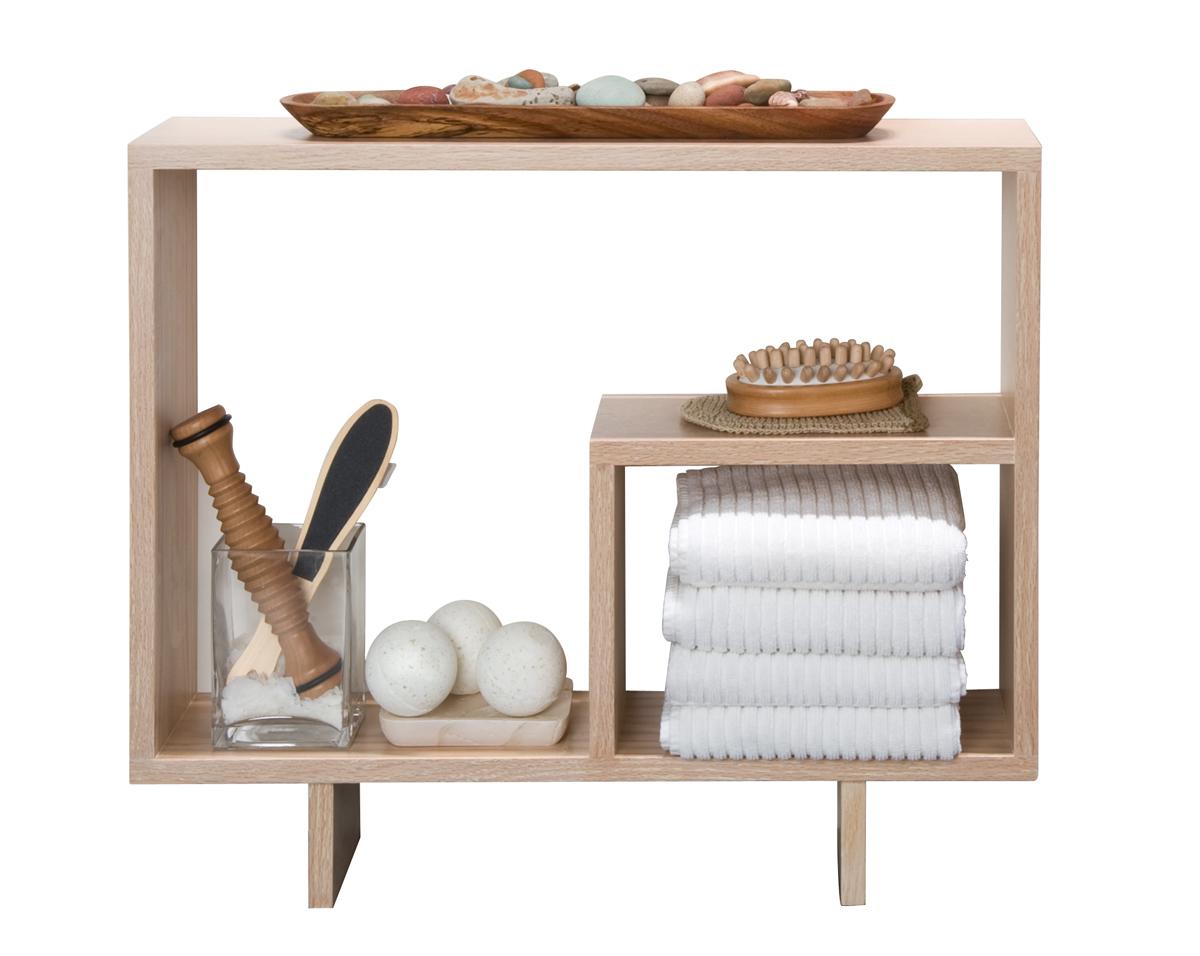 sizes, this complement is the picture of versatility. There are many uses for the niche, allowing your creativity to shine with a complement that is both decorative and functional!
When asked what many people overlook when designing and organizing their washroom, Paquin brought up the importance of investing in quality linens for your washroom, suggesting going with: "Classic white linens with trendy walls or do the opposite if your walls are neutral. Keep the clutter away to highlight your design intents and invest in a well-designed enclosed storage unit that matches with other elements in the room."
There are a number of ways to store your linen, but we recommend these stylish wall-mounted towel racks. The free-standing towel racks from the C2 Collection also look great in many bathrooms, and can revolutionize the way a space is organized. These complements are a reliable way to ensure your washroom stays tidy while giving it a modern look.
A Fresh Coat Of Paint
Nothing breathes life into a space like a new paint or wallpaper job! We asked Paquin what paint trends she would like to see in the New Year: "My vision for 2019 will have big, sophisticated patterns and light colors without forgetting the warmth and cosiness of interior spaces."  
There are is a lot of great resources for both paint colour and wallpaper inspiration if you decide to take this route.
Make the Most of your Washroom
There are so many ways to breathe life into your washroom that many homeowners overlook. Most people don't realize that a subtle complement can totally revolutionize a space. These versatile additions can be functional, but no matter the purpose they all hold one thing in common: they will make your washroom feel new and exciting without a full renovation project!