Your home should be a place of relaxation. After a hard day's work, it's important to have a space where you are able to relax and decompress in comfort. The spa bathroom is a luxurious addition to any home, designed to optimize your space and create a place of zen. When planning your spa bathroom there are a number of things you can do to ensure it is tailored to your specific needs; it is important to create an area equipped with the correct bathroom fixtures, a unified relaxing aesthetic, and functional yet decorative complements that allow you to enjoy the spa experience from the comfort of your own home.
Picking the right fixtures for your spa bathroom is the first step when planning your upcoming renovation or remodel. Spa bathrooms are best suited for bathtubs, which optimize relaxation by inviting you to sink into the warmth with your favorite book. There are a number of tub designs available, with different shapes and sizes to accommodate your bathroom. The CUBE collection of tubs, with their sharp lines and spacious soaking areas, are ideal for a modern-style spa. Their thicker tub walls are perfect for placing candles and decorative items. For spaces built around soft design, the sensual curves of the OVE collection are well suited for relaxation, and  fit vintage design aesthetics well. The BE collection merges fluid design with spacious tubs that are an elegant addition to any washroom. Curved edges allow you to relax comfortably lie in the warmth of the water.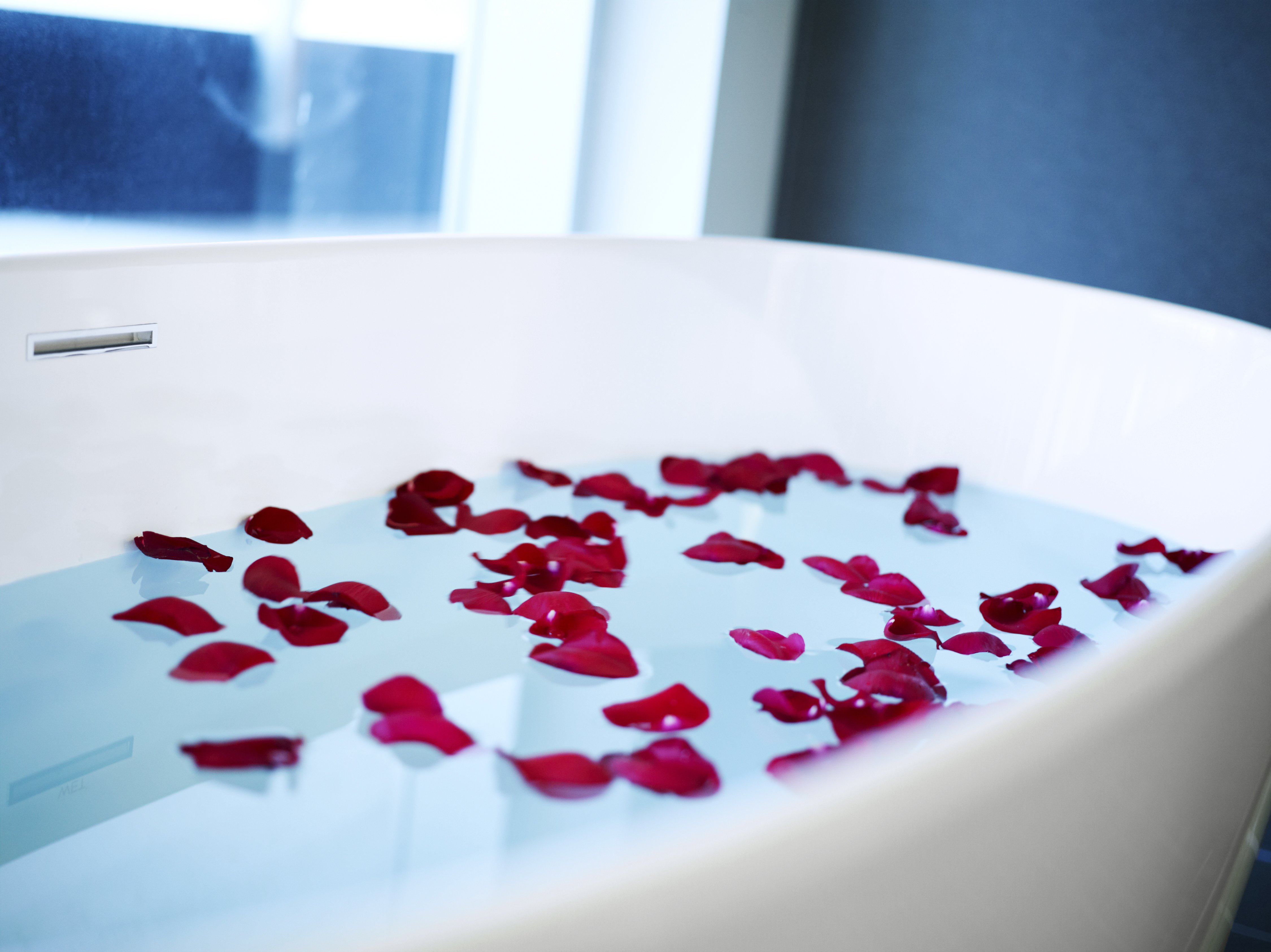 While picking your fixtures for your renovation project, it is important to consider what the unified aesthetic of your bathroom will be. Do you want a modern design with muted colors, or something more vibrant with traditional fixtures? Browse for inspiration online, and when you find an aesthetic that fits your taste you can start moving forward with design choices. For the ultimate spa experience try to optimize your space for relaxation; decide where you will put candles, invest in light dimmers, and look into speakers to play soothing music while you relax in the bath. To avoid clutter and mess, we recommend floor mount vanities to place your sink on. They are elegantly designed and allow for the storage of your bathroom essentials, minimizing clutter and allowing you to fully embrace the comfort of your room.
The final thing to consider when planning your dream bathroom, is what complements will optimize your spa experience. For relaxing in the tub, Head Pillows allow for you to really lean into the tub and embrace the relaxing energy of your space. If you are looking for more support than a head pillow, the head and back rest can help make sure you are comfortable while you read  in the tub. Platters are also ideal for those that like to bring a beverage or book to the bath, allowing you to keep your relaxation tool of choice nearby as you soak in the tub.
When planning your next renovation, make sure to keep your bathroom fixtures, aesthetic, and complements  in mind while designing your space. If you have any questions about how to make your dream spa bathroom, feel free to reach out to our team of bathroom design and renovation experts here, they are glad to help with any questions or enquiries regarding your upcoming project.