WETMAR BiO™ is an eco-friendly thermo-insulating composite material composed of soy and mineral stone.
Create your product ⟶
Design: Wetstyle Design Lab
Keyword: Versatility
A unique replacement model from the CUBE collection, the BC 12 tub is available with customizable options for installation to ensure you have the luxury bathtub you have always dreamed of. This versatile fixture is both a soaking tub and a shower, and can be installed as a freestanding bathtub or adjoining one, two, or three walls in an alcove shape. This model is practical yet functional.
Manufactured with ecologically friendly WETMAR BiO material, this end drain model bathtub is available in True High Gloss or Matte white finish. This tub is a versatile addition to any washroom; allowing for the comfort of a bath or the convenience of a shower, depending on your mood.
Experience the luxury of this contemporary bathtub design – immerse yourself in the CUBE.
Recipient of:

Features
Handcrafted in Montreal, Canada


Integrated overflow

Soft toe touch drain

Plug & Bathe drain connection for quick install

Wood bridge in Wenge shade included

Bathtub/Shower: can be used as a bathtub/shower combination
Specifications
Capacity

78 gal / 355 l

Weight

276 lbs / 125 kg

Approximate Delivery

4 weeks
Downloads
Support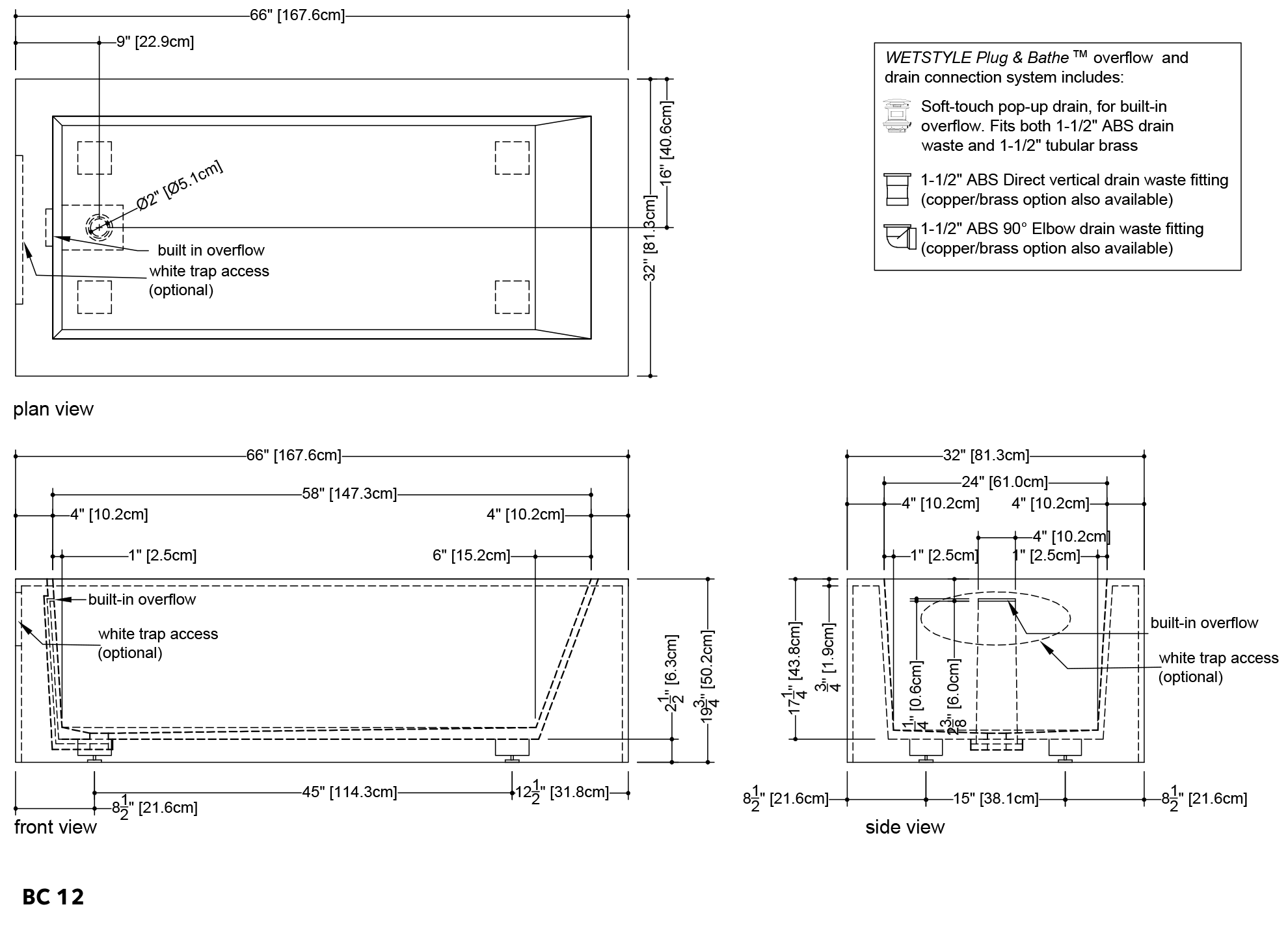 Notes
OPTIONAL WHITE TRAP ACCESS (for deck-mounted faucet installation) is available by special order on models:BC1201, BC1202-R, BC1202-L, BC1204-R, BC1205L
IMPORTANT – BATHTUB INSTALLATION SUPPLIES: A 1/4" tile flange will be supplied to comply with the requested position. Installed at the factory to prevent water leakage, this must be placed directly on the partition framing prior to the installation of drywall.